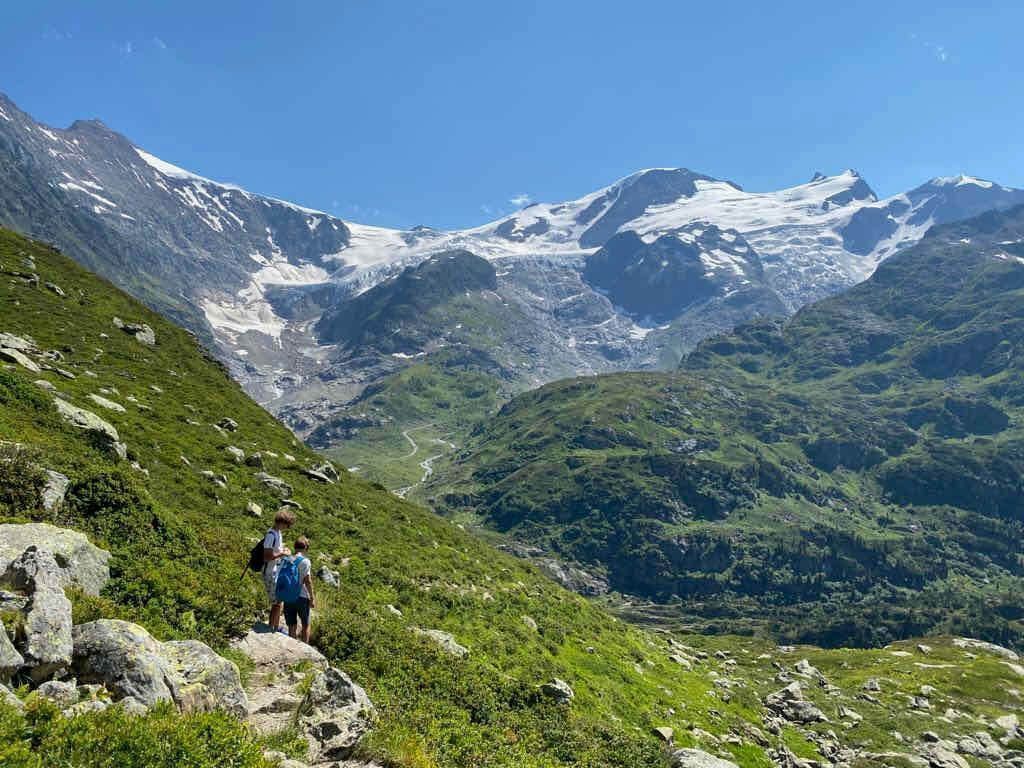 Travelling to Switzerland by car
With the car on vacation to Switzerland
If you are going to Switzerland on vacation by car this summer, I have tips for what to do in Bernese Oberland. Because even though schools are about to start again. If you're not stuck on school vacations, these handy tips for a car vacation might still come in handy.
Travelling to Switzerland by car
Just like last year, we decided to go to Switzerland at the last minute. We had nothing planned and waited a long time to see what was possible in this vacation. That we would go on vacation by car was a given, only the location was still uncertain.
Last year we camped for three weeks in Valais, we liked it, this time we decided to go to Bernese Oberland. And to the village of Innertkirchen.
On vacation by car to Switzerland
A vacation to Switzerland is perfectly doable by car. It is about 800 kilometers from Utrecht. At the moment there are a lot of road works in Germany, so in addition to all the Corona travel rules, check the most favorable route before you leave or expect traffic jams on the roads to Switzerland.
Bernese Oberland Switzerland
Well, back to Bernese Oberland. Bern Oberland is the alpine area in the canton of Bern in Switzerland. It includes the regions of Lake Thuner and Lake Brienzersee and its southern cantons.
The Bernese Oberland is a popular destination for tourists and therefore also for us. The weather can be changeable, like this year. 'in the evening and 'at night we had regular rain, during the day it was dry and warm.
What to do?
Our vacations consist of hiking in the mountains and climbing. Bernese Oberland is a perfect place for sport climbing and we did that a lot. Besides long and short walks, we also visited beautiful waterfalls, gorges and cities, so here are a few nice tips:
A day in Thun
When you think of hiking in Switzerland you quickly think of hiking in the mountains, but in the city of Thun you can also have a lot of fun walking around. In Thun you will find a historic city center, the Schlossberg with its imposing Thunder Castle, the lower town, the Hauptgasse and the Bälliz. In Thun you will find two historic, wooden covered pedestrian bridges and the picturesque Town Hall Square.
It is a lovely place to visit.
The Aareschlucht
The Aareschlucht is a gorge carved by the River Aare. This beautiful gorge is located near Meiringen in Switzerland. The length of the gorge is 1400 meters; at its narrowest point it is one meter wide. The highest part of the gorge is 180 meters above the river.
The gorge can be reached from two sides, the west side from Meiringen and the east side from Innertkirchen. It is beautiful to walk through, just keep in mind that you can get wet from all the splashing water and water running off the rocks.
The Sherlock Holmes museum in Meiringen and a walk to the Reichenbachfall
Meiringen in Switzerland is known, among other things, for the Reichenbach waterfall, here you can walk to (the steep walk takes about three quarters of an hour to an hour) or take a cable car. At this waterfall the novel character Sherlock Holmes, conceived by Arthur Conan Doyle, is said to have plunged down together with Professor Moriarty on May 4, 1891. Holmes survived, however, and took the opportunity to stage his death to ensure that Moriaty's henchmen would not kill him after all.
A small plaque has been placed at the spot where the struggle between the two allegedly took place.
It is fun to visit the Sherlock Holmes museum in Meiringen before going on this hike. You see this museum as soon as you enter Meiringen, there is a statue of Sherlock Holmes. In this museum you can see and read all about the character Sherlock Holmes and the story of the Reichenbachfall.
Hiking along Thuner lake in Spiez
I like hiking in the mountains, but a day not too steep is also a relief and then the eight kilometer circular hike in Spiez is a must. During the hike you'll walk past the picturesque bay on the deep blue lake of Thun, see the historic castle, vineyards and an impressive mountain panorama. Along the way, you will find plenty of restaurants to grab a bite to eat and a drink.
A leisurely hike with beautiful views.
Rosenlauischlucht
If the Aareschlucht was beautiful, the Roselauischlucht is perhaps even more so. Harder to get to because you have to drive up a mountain pass first and thus much less touristy than its big brother in Meiringen, but just as impressive a gorge with huge waterfalls, caves and rock carvings.
Alpbachschlucht in Meiringen
And also the next short hike was to a beautiful gorge, namely the Alpbachschlucht in Meiringen. A gorge with a view. A one-hour hike, walking up a rocky path with cables and steps.
A fun and beautiful hike with a viewing platform at the end of the rocky path that rises six meters above the edge of the gorge.
A day in Interlaken, preferably with a visit to Jungfraujoch
In Bernese Oberland in Switzerland you can do an awful lot of hiking, including the area around Interlaken. The best hike, of course, is at the top of the Jungfraujoch. Getting here by the Jungfraubahn, a so-called cogwheel railway that takes you from Kleine Scheidegg (2.061 m) you can travel through a 7 kilometer long tunnel through the Eiger and the Mönch.
The prices of this track, as well as the other train rides here, are incredibly expensive, so know in advance what you want to do. From Interlaken you have a beautiful view of the Jungfrau, provided you have good weather.
Rosenlauischluts
Alpbachschlucht
Interlaken view of the Jungfrau
Check your car insurance before going to Switzerland
Besides great tips also a useful tip in this article, because when you go on vacation by car -whether Switzerland or any other country-, always go on vacation well prepared and well insured. Before you go, go calculate your car insurance, you can very well do this yourself and when you look at cheap car insurance you will see that it is well affordable too. Being well prepared on the road saves a lot of trouble and increases the vacation feeling.
Also check the travel options
We deliberately chose Switzerland as our vacation destination this year because the facilities here are very good even in Corona time. We were not looking for the touristy places and in the Swiss Alps, you have the space you are looking for. But do you want to go on vacation to France, for example: what to think about?
Check the country you want to go to and check your car insurance in advance!