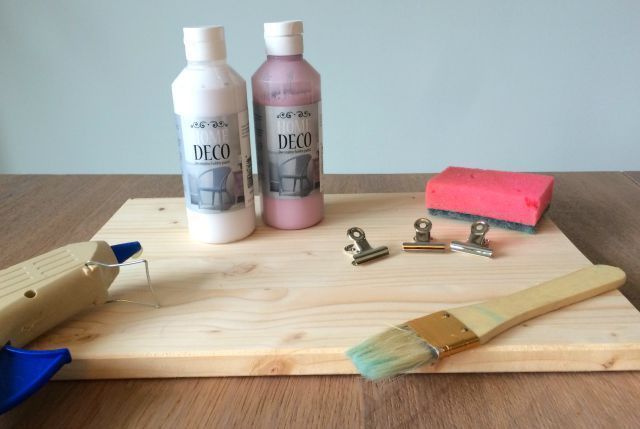 Memo board with baby feet
DIY Memo board with baby feet
Our little man was born three years ago. I thought those little hands and feet were so cute. I regularly took a picture of all that beauty.
However, I never made a nice print of his baby feet. More than three years later, I regret that. Mister's feet are now already sized toddler and that is already quite large. Since the youngest member of the family still has those sweet little feet, she was the sjaak.
I made a memo board with a print of my daughter's baby feet.
Memo board; what do you need?
Wooden plank
Paint (Deco paint of the Action)
brush
sponge
glue gun
Clamps or pegs
How to make the memo board
I had the wooden plank left over from another DIY; text on wood. I sanded the edges neatly so you don't get splinters. Then I put the shelf in a layer of white deco paint.
This paint is ideal, it is a kind of chalk paint that you can use on various surfaces. It is also nice and cheap because it is available at the Action. After the layer of white paint had dried, the little lady was allowed to join. I carefully painted her feet with a sponge.
I used the color for this antiquepink, also from the Action. Make sure you paint the feet one by one, otherwise your whole baby, interior and yourself will be covered in paint. Hold the foot briefly against the plank. Do the same with the other foot, so that you have a 'V-shape' gets. Of course I cleaned the feet immediately and got the lady nice and warm socks on again.
She liked it all, by the way. After I had tied my daughter back into the sling, I wrote the other letters in pencil. That way I could still erase a bit if the letters failed badly. However, I was lucky, they were right on the memo board in one go.
I then traced the letters with black paint.
Finally I attached the clamps with a glue gun. That way they stay in place if I want to hang something on them. And it's done K.. or no..
Bianca is ready! See the end result here.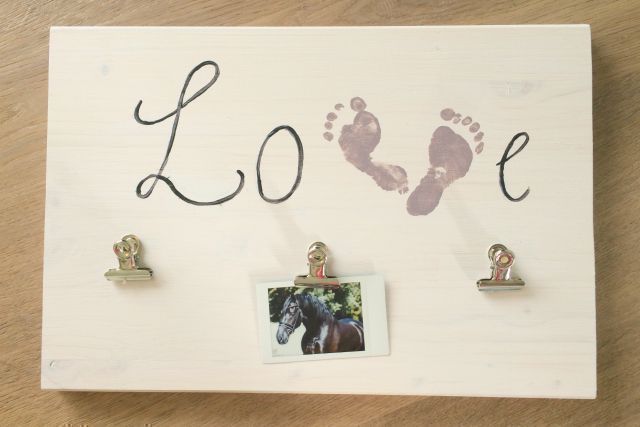 Do you have prints of your child(ren)'s hands/feet?? What do you think of the memo board??
♥ ♥ ♥ Affiliate links are used on Fulltime Mama. This means that if you click on one of the links, we may receive a small commission. It costs you nothing extra, but it does give us something. With these proceeds we can maintain this website. We also sometimes get paid for an article or we get a product in exchange for a blog post.
Our opinion therefore remains unchanged and honest. For more information you can read the disclaimer. ♥ ♥ ♥