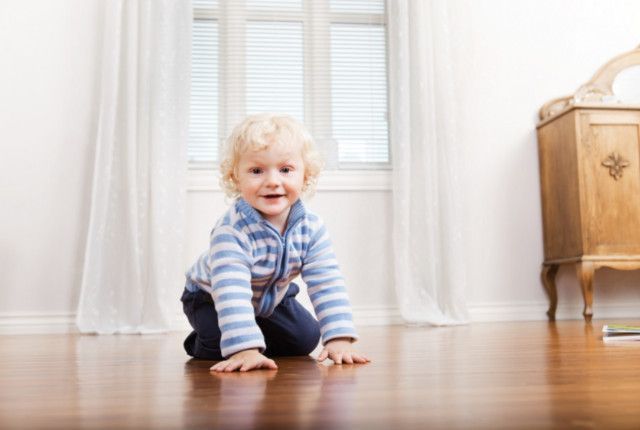 3x child-friendly floors
3x child-friendly flooring
Flying wooden blocks, LEGO bricks lying around everywhere, cups of drink rumbling across the floor and food leftovers under the dining table. Not to mention those runners that scuff across your floor. Yes, as well as getting a lot of love in return, children also get a lot of other things in return. In the home, your floor suffers, so a child-friendly floor is essential!
But what is a child-friendly floor? Well, you've come to the right place, because I'm going to tell you exactly which floors are kidproof.
What must your child-friendly floor meet?
The floor has to be wear-resistant to begin with. I don't need to explain why, as I've briefly described it above. A good example of a hard-wearing floor is a PVC floor, and the great thing is that an affordable PVC floor is also definitely a possibility.
The floor shouldn't be slippery, to avoid your little one constantly falling on his's snuffy feet during his first steps.
It's also important that the floor is soundproof, so your living room won't echo. Of course, a good subfloor is also very important here.
The floor must be easy to clean, because you will need to mop regularly. A wooden floor is not the ideal choice at the moment, but a laminate floor is an excellent option!
Which Floors are child-friendly
We have listed exactly which floors are child-friendly for you.
PVC floor
A PVC floor is easy to maintain, soundproof, soft and warm to the touch, and you can choose all sorts of colors and patterns. It is a durable floor that you will enjoy for many years to come. A PVC floor is slightly more prone to scratches than a high-quality laminate floor, but with its beautiful appearance, this floor makes up for it.
laminate
A laminate floor is hardwearing and easy to clean. You have laminate in all price ranges, but keep in mind that, in most cases, the more expensive the floor is, the higher the quality of the top layer of laminate is. And that top layer is again important for how long your laminate floor will last.
Wooden floor
Wooden floors are more difficult to maintain. Consider oiling the floor or resanding the floor. Also, with mopping, you have to keep in mind that you don't mop with too much water because can cause rings in the wood. A Cup of Drink Falls On The Floor Unguarded and You Don't Realize It Until Hours Later? That can affect your Wooden Floor.
Of course, there are also benefits, Such as a beautiful, luxurious look and feel, and a wood floor is heat insulating.
Tiles
Tiles Can of Course Best Withstand Scratches and Knocks, because the Material is Rock Hard. But That is direct another disadvantage, because your child falls, it or bowls hard as well. And believe me, as a boy mama I can speak from experience that your child regularly falls out of clumsiness or while performance all sorts of wild acrobatic tricks.
Besids, Tiles Are Cold If You Don't Have Floor Heating Underneath Them. Tiles are nice, but unfortunately not child-friendly.
Carpet
Finally, You Can of Course Choose Carpet. Of course it is nice and warm on the feet of the little one and slipping on it will not happen Easily, But Still, Carpet as a Floor is not incomed. Carpet is difficult to clean, so those cups of drinks and food that are guaranteed to end up on the floor in the first few years can cause unsightly marks.
You should now have a better idea of which floors are child-friendly and therefore ideal for a home with small children. Which floor do you prefer?
♥ ♥ ♥ Fulltime Mama uses affiliate links. This means that if you click on one of the links, we may get a small commission on it. It doesn't cost you anything extra, but it does earn us something. With these proceeds we can maintain this website. We also sometimes get paid for an article or we get a product in exchange for a blog post. Therefore our opinion remains unchanged and honest. For more information you can read the disclaimer. ♥ ♥ ♥