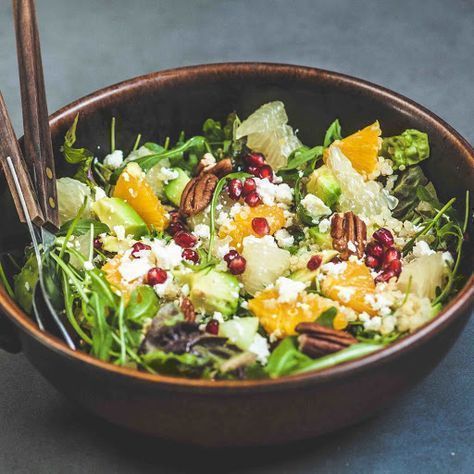 Quinoa salad with feta and avocado- healthy and easy recipe
Quinoa salad with feta and avocado- healthy and easy recipe
Quinoa, do you ever eat it? And how about a quinoa salsa With feta and avocado. Tasty and healthy because good fats and if you don't eat too much of these, they are super good for you.
This salad can be used for lunch, but is also very tasty at dinner.
Salads with cheese
I love salads and especially when they have cheese in them. I often eat recipes with goat cheese or brie, but I also love salads with feta, and the combination with quinoa makes you an instant healthy quinoa salad. Ideal for lunch or dinner.
It's an easy tasty recipe.
Quinoa salad
From Powerfood by Rens Kroes
Preparation time 35 minutes- 4 persons
Ingredients:
180 gr quinoa- 1 vegetarian stock cube- ¾ cucumber- 200 gr cherry tomatoes- 1 avocado- 1 tsp olives- 1 spring onion- 1 small red onion- 150 gr feta cubes- 2 cloves garlic- 2 tsp chopped cilantro- salt and pepper- 1 tsp lemon juice- 1 tsp olive oil- handful of arugula.
Preparation:
Wash the quinoa and cook it with about 300 ml of water and a stock cube until tender and let it cool down. Cut the cucumber, tomatoes, avocado, olives and onions into small pieces, crumble the feta, squeeze the garlic and add everything to the quinoa along with the cilantro. Season with salt and pepper and drizzle with lemon juice and olive oil.
Mix everything up with a spoon. Finally, add some arugula and the quinoa salad is ready!
Super easy recipe and very tasty,
Curious about the book Powerfood by Rens Kroes. Click here for the product
Cooking from recipe books
How easy it is to get recipes from books. For example, I myself cook a lot from cookbooks, but I also have a kitchen Journal, where I keep the most delicious recipes from magazines.