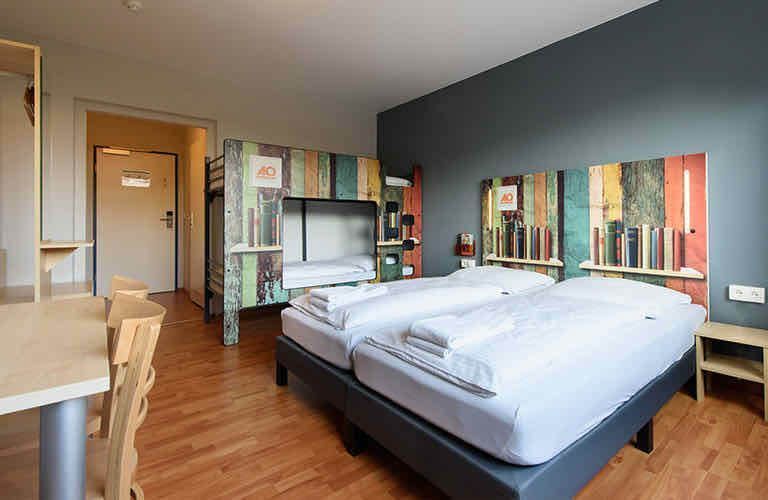 A Citytrip with kids Easy and low-budget sleeping
A city trip with kids? Easy and low-budget sleeping in one of the a'o Hostels
A city trip with kids sounds fun, but in practice is often a bit more 'challenging' than the Instagram pictures suggest. Sleeping in a totally-not-kidproof apartment or a cramped hotel room with an extra bed crammed into it? a&o Hostels is the solution for families on a city trip.
On mini vacation with the kids
We love going on a mini vacation with the kids. Although I must say that a weekend in Dublin is still on my wish list to do alone with the husband one day. Due to the illness of the boys and the care they need, this is not possible for the time being. Well I don't mind going out with them at all.
Earlier this year we went to Hamburg and last year we were in Paris. Searching for hotels or hostels is always a challenge for me. I don't want too expensive (after all, the vacation already costs enough) preferably child-friendly, close to town, but so that we can park the car.
When I received a press release saying: a&o hostels offer Complete family rooms in center of 23 cities, I was wondering if this would be something for us as well.
In a&o hostel children under 6 are free of charge
Keep money left over for attractions, zoos and extra ice cream (or summer cocktails for yourself)! At least the accommodation costs are no longer a reason not to go on a city trip with your kids. At a&o Hostels offer free accommodation and breakfast for kids under 6 throughout Europe. And for everyone aged 7 to 18, you pay just 10 euros per night.
Perfect for a first trip with baby, but also as an unforgettable budget vacation with teenagers. And you often stay right in the center, so you can explore the city on foot. Saves hassle and transportation costs!
Family rooms suitable for large families
a&o Hostels know exactly what families need on vacation: rooms connected by a connecting door. This way the kids are always nearby without an extra room key and the separate master bedroom offers enough privacy for when the offspring are in bed. So In The 39 Hostels, Simply Book a Family Room, Suitable for Two Adults with Up to 6 Children. In the master bedroom there is a double bed, in the children's room bunk beds with safe high railing, but also big enough for teenagers. Of Course, All Family Rooms Have A Private Bathroom.
Need Even More? Cribs, High Chairs and Even Potty Chairs Can Be Requested Free Of Charge When Booking.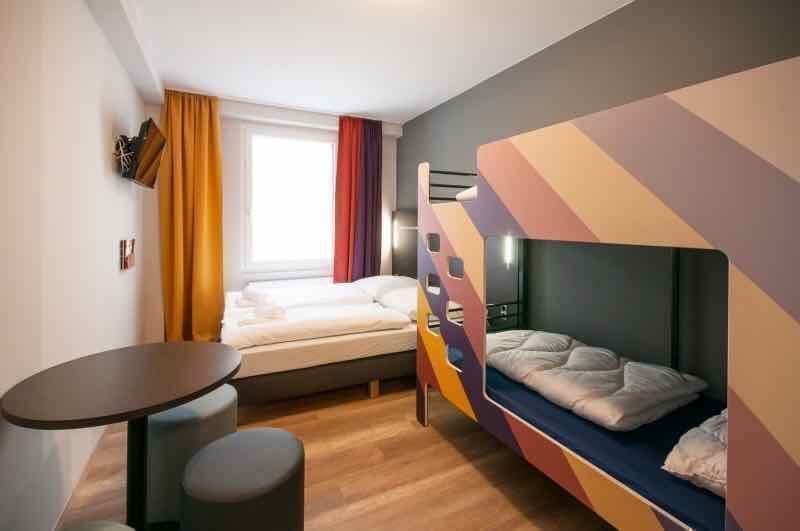 a&O Bremen Hauptbahnhof
Eating is easy with the breakfast buffet in the hostels
Besides Sleeping Well, A City Trip With the Whole Family Becomes A Piece of Cake IF The Food Is Hassle-Free. You can of course take the kids to the newest hotspot in town, but don't feel like tantrums At the Wrong Time, Just Make the Kids A Meal or Porridge in The Hotel's Own Guest Kitchen&o Hostels. The next morning an extensive breakfast buffet awaits, where even the most discerning eaters will find something tasty to eat.
The little ones get free breakfast, by the way! Packed lunches for the road? No problem, these will be made for you right away.
A Kids Corner where the kids have fun
Just think: an hour of me-time while the kids entertain themselves. No dream, here is the Kids Corner of a&o Hostels! With toys, coloring books, pencils and children's books in various languages, among other things, the little ones will be busy for a while. Some establishments even have slides and playhouses.
The older children go for table soccer, card games or billiards. In some cities, you can even request a babysitter through the babysitter network as well.
a&o Hamburg City
Free, lightning-fast wifi is also important in hostels
Almost more important than passports: free wifi in the hotel! Indispensable for planning the next day on your phone, or to let the kids take a break from the city bustle behind the iPad. That's a&o Hostels all too well, so there's guaranteed high-speed internet in all rooms.
If you have any questions or medical problems with the children, there is someone at the reception desk day and night to help. You can also come here for tips, advice and inspiration for original family activities, by the way.
Travel through Europe and stay at one of these hostels.
Introduce the kids to 8 different European countries, where you can a&o Hostels can be found in as many as 23 cities. Stay in the Netherlands (Amsterdam) or travel to Germany (Aachen, Berlin, Bremen, Dortmund, Dresden, Düsseldorf, Frankfurt, Hamburg, Cologne, Leipzig, Nuremberg, Munich, Stuttgart, Weimar), Denmark (Copenhagen) Czech Republic (Prague) , Austria (Salzburg, Graz, Vienna) or Italy (Venice). Later this year a second branch will open in Salzburg and one in Warsaw, Poland.
Next year Hungary (Budapest) and a second store in Copenhagen will follow.
a&o Hostels are also perfect for an extra night's stay on the way to vacation to take a break from the long drive.
keep in mind
Our next city trip will probably be Berlin. At least we think it would be fun to go here with the kids one day. Of course, I took a leisurely and extensive look at the site and looked at several locations, both in Berlin, and other cities. I saw some great hostels in nice central locations for low budget prices.
I will definitely keep this site in mind.