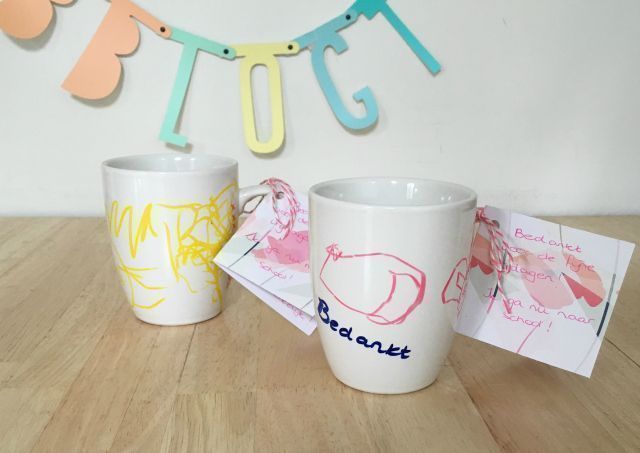 Thank you teacher (Cake in a mug)
DIY; thank you teacher (Cake in a mug)
Just over a month ago the oldest said goodbye at preschool. We then made a thank you gift for the teacher. Last Friday the little man had teacher's day at school and we made another great thank you gift for the teacher.
This cake in a mug you can fit at different times or you just secretly make it nice for yourself.
Thank you for the teacher (Cake in a mug)
When little man said goodbye at preschool he treated volcanoes. However, I also wanted to give the leaders a separate thank you gift. Together with the little man I then made a delicious cake in a mug.
You only need a few ingredients for this and anyone can make it. Towards the end of the school year it is also nice to thank the teacher with a small gift. Finding something original that would be useful to the teacher was not easy for me.
So I made another version of the cake in a mug but this time in a jar. The gift was fortunately appreciated.
What you need?
A cup or jar with a lid
coconut blossom sugar
(spelled) flour
cocoa
Possibly porcelain markers
How to proceed?
I bought white mugs and let little man draw a picture on them with porcelain markers. After baking in the oven, these mugs are now dishwasher safe so they can actually be used.
Then we filled the cups each with 4 tablespoons of coconut blossom sugar, 4 tablespoons of spelled flour and 2 tablespoons of cocoa. I cut a circle from a sandwich bag. I attached these with a rubber band over the top of the mug so all the ingredients don't fall out.
Then I made a little card from cardboard. Here I wrote down the remaining ingredients and what you have to do before it is a tasty cake.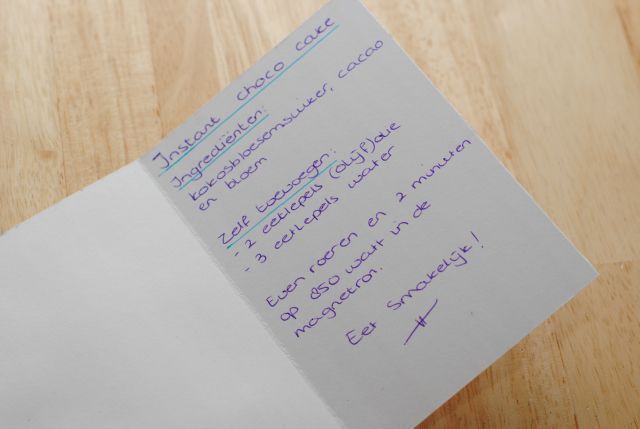 I repeated the above with a glass jar with lid from Xenos. Here little man made a card to go with it on which I wrote the recipe again. I am very curious to know if the teacher has already enjoyed it.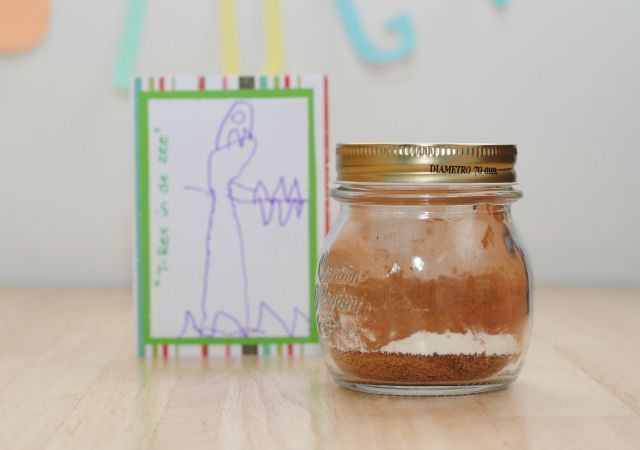 Recipe
4 tbsp coconut blossom sugar
4 tablespoons spelled flour
2 tablespoons of cocoa powder
2 tablespoons of olive oil
3 tablespoons or water
Mix it all up. (In the cup.) Then put it in the microwave at 850 watts for 2 minutes. Prick the cake to see if the inside is fluffy but dry. If yes?
Enjoy!
What thank you gift does your child give to the teacher??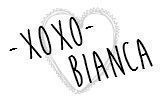 ♥ ♥ ♥ ♥ Fulltime Mama uses affiliate links. This means that if you click on one of the links, we might get a small commission on it. It won't cost you anything extra, but it will save us money.
With these proceeds we can maintain this website. We also sometimes get paid for an article or we get a product in exchange for a blog post. Our opinion remains unchanged and honest because of this. For more information you can read through the disclaimer. ♥ ♥ ♥