Simple but delicious pizza bread
Recipe simple but delicious pizza bread
By Debbie; I've been baking bread a little more often lately. Besides baking and cooking, baking bread is a whole new world opening up for me. It really is a craft and I can tell you that you are really happy when you have a delicious bread on the table that you made yourself. It does take a lot of time to get the bread in the oven. Not that you have to do extremely much about it but you have to keep an eye on the rise times.
Rise too long and it collapses…. Well.
Pizza bread
But sometimes life is just simple, thanks also to your prep work. You have those days when you have no idea what to cook. Then I look in the fridge: tomato sauce, mozzarella…. A look in my drawer: hm, a baked braid bread and the choice is quickly made. I made a pizza bread!
The kids were happy because they still do not eat vegetables. But luckily they like this! Just make this pizza bread with any leftover bake-off bread such as ciabatta, baguette or Turkish bread or any fresh bread you just don't know how to finish.
What you need?
For 4 people:
1 bread
A few tablespoons of strained tomatoes
a ball of mozzarella
Italian herbs
olive oil
salt
tomato pesto
How to proceed?
Preheat the oven to 200 degrees Celsius.
Cut the bread in half lengthwise.
Coat with the strained tomatoes and sprinkle with the herbs, salt and pepper.
Spread the mozzarella cut into pieces on top.
Drizzle some olive oil on top and a few spoonfuls of tomato pesto.
Bake the bread for 10 minutes until the mozzarella is melted.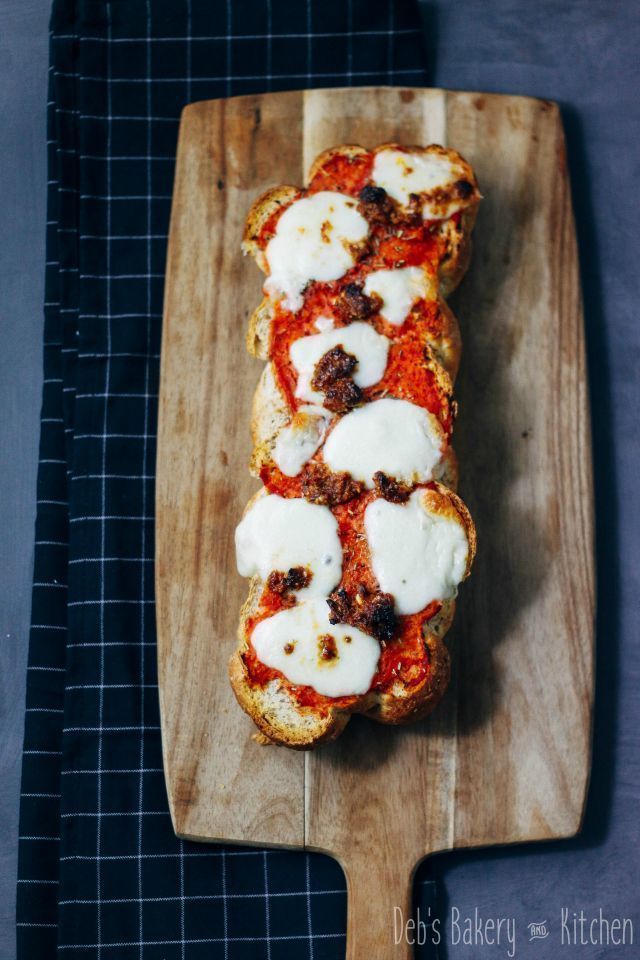 This article is written by Debbie Bodewes. More from Debbie can be found on her blog Deb's Bakery & Kitchen.
♥ ♥ ♥ ♥ Fulltime Mama uses affiliate links. This means that if you click on one of the links, we might get a small commission on it. It costs you nothing extra, but it does give us something extra. With these proceeds we can maintain this website. We also sometimes get paid for an article or receive a product in exchange for a blog post.
As a result, our opinion remains unchanged and honest. For more information you can read the disclaimer. ♥ ♥ ♥