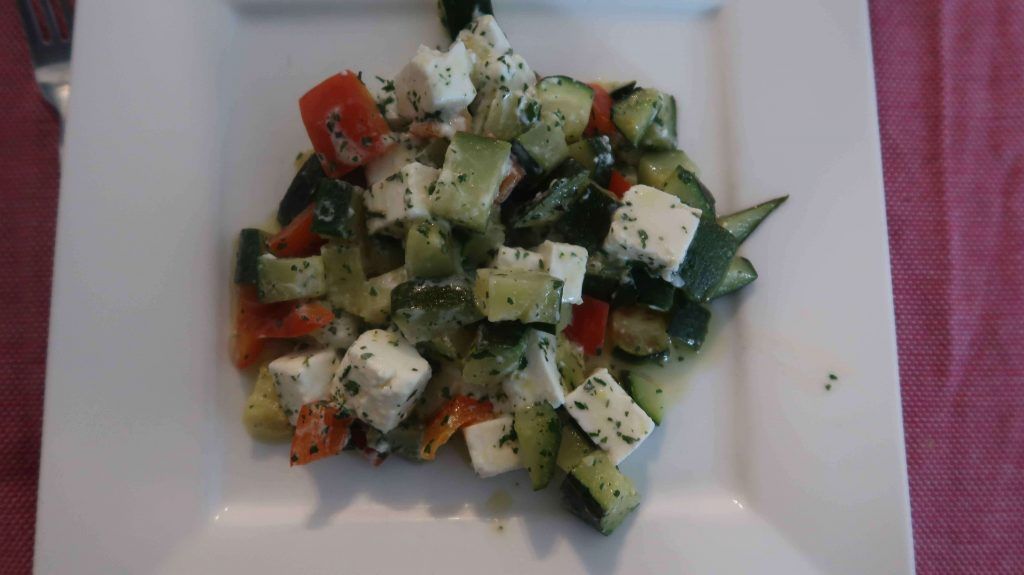 A low-carb healthy lunch
A low-carb healthy lunch. These lunches are easy to make
Even though we sit at home so much and you read a lot about the Corona kilos's, I still try to keep eating healthy. Now in my search for healthy bars, I found finding healthy lunches the trickiest part. But I now have a list of favorites.
Lunches without bread
I have been eating low carb for a while now. I really like this. Now I am definitely not saying that bread, potatoes, pasta or rice are bad. But personally I like to eat this less.
I also eat a lot less sugar. And this, of course, is totally healthy. I eat a nice and varied diet and have maintained the same weight for several months now and have lots of energy.
I can always find recipes for breakfast and dinner, but it's hard to come up with lunches.
Variety in healthy lunches
I find it especially difficult to find variation in healthy lunches, I don't want salad every day, but what then?. Luckily I have Pinterest and some cookbooks with low-carb recipes, there are plenty of tasty and healthy lunch ideas in there. Today I'm sharing my favorites with you:
Healthy omelet
On Wednesdays we have lunch with eggs. For the boys 'sunny side up' on a sandwich and myself I often make an omelet with vegetables. There are of course different variations think of:
omelet with cheese and mushrooms
omelet with cheese, tomato and cucumber on the side
salmon and dill omelet
Currently a lot of people eat lunch at home and it is easy to unpack and prepare healthy lunches. How different is this when you are working outside the home. If you want to take an egg with you then an egg muffin might be a good idea and also think about Meal prepping, that way you can always take a healthy lunch with you:
Egg muffins
What do you need for six egg muffins
5 eggs
1/2 bell bell pepper
1/2 zucchini
grated cheese
pepper salt and paprika powder
1.Put the oven on 180 degrees. 2.Cut the vegetables into pieces and beat the eggs in a bowl and add pepper salt and paprika powder. 3. Grease a muffin tray and fill it with the egg mixture, then divide the diced vegetables and top with cheese.
4. Put the egg muffins in the oven for 20 minutes.
Lunch with lots of vegetables
Even though I eat a lot of vegetables in the evening, I don't get to 250 grams very quickly, which is why I often have lunch with vegetables as well. My favorite lunches mostly come from Pascale Naessens' cookbooks. Would you like to eat low-carb, then these books are highly recommended.
I do occasionally change something about a recipe, for example because I can't find a product or I find a product very expensive. Below are two recipes, which I do modify slightly, but remain super healthy:
Stewed vegetables with feta
1 large zucchini
1 red bell bell pepper
200 gr feta cheese
dried parsley
Cut the zucchini into 1-inch cubes. Sauté the cubes in plenty of olive oil. Dice the bell bell pepper and stew together for 12 minutes.
Then cut the feta into cubes and put it in the pan with the parsley and let it stew for 2 minutes.
Stuffed chicory with goat cheese and dates
*from the Facebook page 'good in your skin'
Ingredients for 2 people:
3 chicory stems
200 gr soft goat cheese
6 dates
1 handful of walnuts
Cut the chicory in half and remove the inner hard part. Get a tub to fill up. Chop the walnuts, stone the dates and cut them into pieces.
Put them together with the soft goat cheese in a mixing bowl and stir well. Fill the chicory halves with this and place them in a baking dish. Place in a preheated oven at 180 °C for 20 minutes.
Soup is always good
What I love is to eat soup in the evening. I always make sure I have a pan full so I have some left over for lunch the next day. Usually I make broccoli soup or zucchini soup and I got from Marjo of Mar-joya.En a recipe of broccoli and zucchini soup.
A very nice lunch soup is chicken with avocado, this one is also from Pascale Naessens' cookbook and I adapted it to my own needs.
Soup with chicken, bell bell pepper and avocado
What do you need for two people:
1 chicken breast
1 green bell pepper
peppers ( I have from jar)
3 tablespoons of soy sauce
half an avocado
parsley
And this is how you make this easy, but oh-so-delicious soup:
Cut the chicken into pieces and put them in a pan with plenty of olive oil. Brown the chicken. Meanwhile, dice the bell bell pepper and chili peppers.
Add 400 ml water and add the peppers and pepper. Let this cook for a while. Add the soy sauce.
Stir briefly and add the avocado and parsley.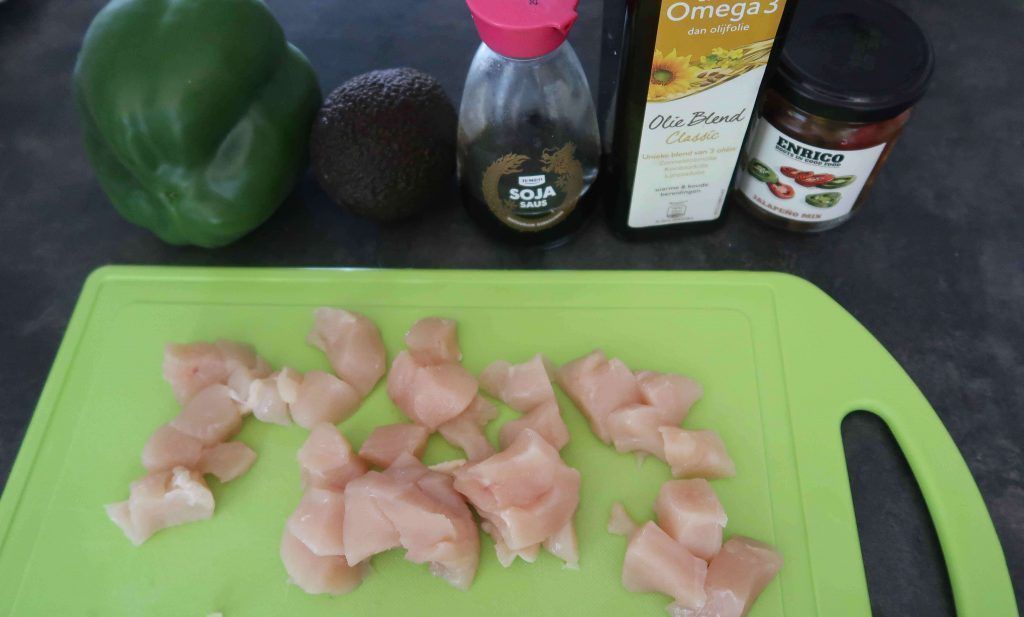 Salads are always delicious
I love salads and this is mainly because there is so much variety these days. My favorite salads might be the BLT (Bacon, Lettuce and Tomato) salad, but I also love salads with chicken breast or smoked chicken. Often I just put in a bowl all the vegetables I have at home, a dressing on top (honey mustard or Greek yogurt/ mayonnaise and mustard) or how about a Salty salad with goat cheese and figs.
I haven't made this myself yet, I also got this recipe from Marjo of Mar-joya.nl and is definitely on me to make list.
BLT salad
Ingredients for 2 persons
1 avocado, sliced
cherry tomatoes, cut into pieces
4 strips of bacon
Romaine lettuce ( but this can also be arugula, corn salad)
Cucumber, cut into cubes
salt and pepper to taste
dressing of Greek yogurt, mustard, a little oil and mayonnaise
Preparation
Fry the bacon in a frying pan, sin oil and cut into pieces. Put the lettuce on a plate, I always like to put all the ingredients next to each other on the plate, so the avocado, tomatoes, cucumber and bacon all around on the plate. As you can see, in my salad in the photo, I forgot the avocado, but I had some celery, which tasted good too.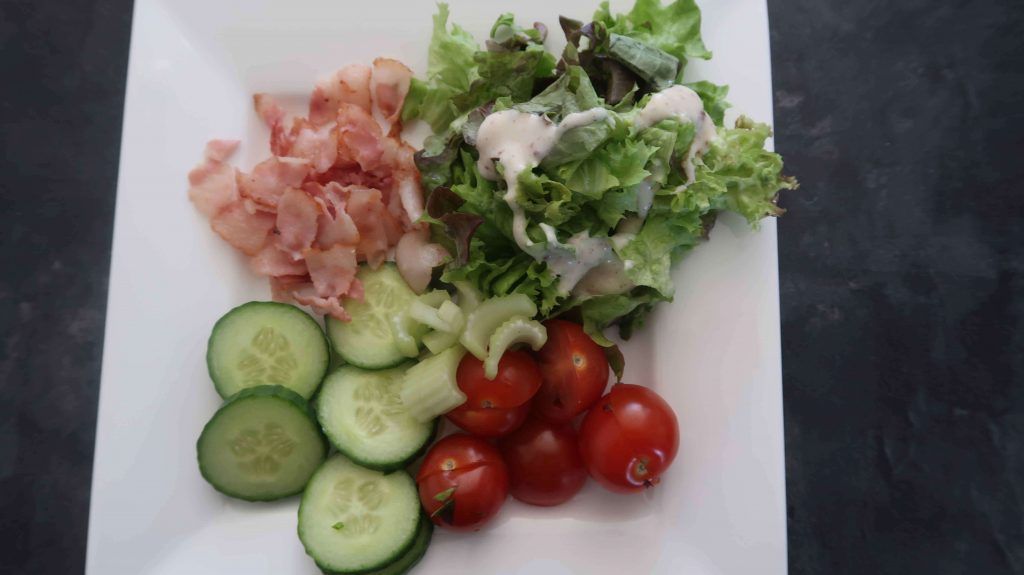 More easy lunches
I often make salads from whatever I have in the fridge, on the salad below that was mixed lettuce, cherry tomatoes, cucumber, spring onion, celery and chicken breast. I made a sauce of honey and mustard and olive oil with this and there you go, this way your lunches are ready in no time and you clean up your fridge. And now in addition to all that healthy snacking, you want some savory snacks. Hoeksche Chips, has chips without E numbers, but still with the yummy chip taste.
For let's be. An occasional snack in between is just fine!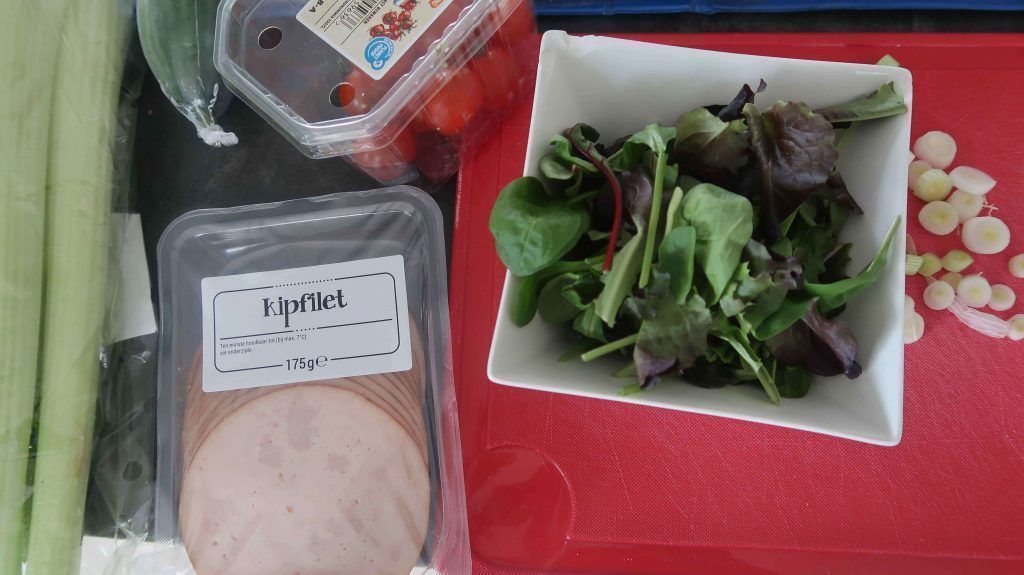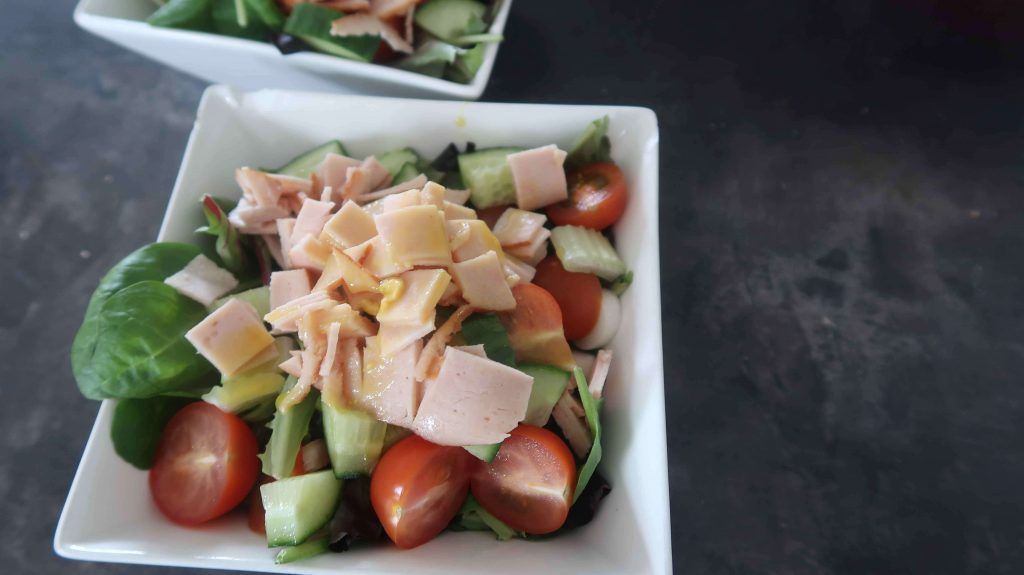 I must say that by now I have a nice list of tasty and healthy lunches and I can vary a lot. If you have any tasty tips I would love to hear them!