Quiet Book for Toddlers
DIY Quiet Book for Toddlers
The past few days I've been doing crafts for the little man. The little man also loves to tinker, so we make a nice mess together. After some inspiration from Pinterest I am now making Quiet Book pages.
Relax work and the toddler likes to play with it.
QuietBook? What is that?
Just like the Busy Bags (which I wrote about earlier), a Quiet Book has come over from America. A direct Dutch translation is not really for it. You can describe it as booklets that children can play independently with at times when it has to be quiet. Officially, these booklets even come from the church.
Parents who want to keep their children quiet during the church service make a Quiet Book. Most Quiet Books are made from felt. These look very cool, but they take a lot more time.
I'm pretty handy with the sewing machine but not that motivated to sew a whole book of felt together. So there had to be another solution. The Quiet Book pages I started working with are therefore completely made of cardboard and paper, after which they are laminated.
Ideal.
What do you need?
– a4 Cardboard / paper
– Pair of scissors
– Self-adhesive Velcro
– Markers, stickers, etc
– Laminating sheets
– laminator
How to make a quiet book?
Decide in advance what you want to display per page. You can fully adjust the page ' s to the level of your child. For example, I have a page where you have to match animals. I printed out the animal pictures from the internet.
Then cut into three pieces and glued the tails to the A4 sheet. This whole is laminated. I cut out the other pieces, torso and head, and laminated them again. When you have laminated everything neatly and cut it out, you can put self-adhesive Velcro behind it. This way your child can get started with it.
Let them match the right animals or create crazy fantasy animals by sticking all the parts together.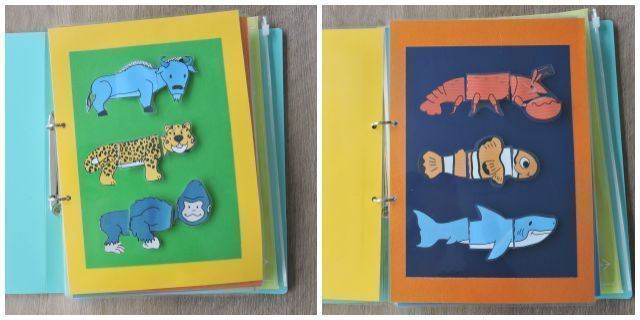 I also made a page with a Minion. The little man enjoyed this movie so much so a Dave couldn't be missed. I cut the Minion completely out of paper and stuck it on an A4.
I left his hair out. After laminating I stuck a piece of Velcro on top of his head. Then I made 3 different hairstyles and a hat out of cardboard. Now our little man can always stick a different creation on the Minion's head.
He finds that very funny.
Another page I made is a page with a landscape and corresponding animals. The animals come from a sticker book. Again, there is Velcro on the back.
This way your child can stick the animals in the right place. Although it is of course also very nice for a toddler to stick a pig in the tree instead of the bird.
The last page is a page of shapes. I cut out the shapes twice. Once in black and once in a nice color. After lamination, our toddler can now match the correct shapes. I made an extra page with the letters of his name.
He already recognizes his name very well and can already write the first two letters. Now he can even stick his letters in the right order. Nice and educational and he especially likes it a lot.
In the end I put all the pages together in a binder. That way they stay beautiful and don't get lost. All bingos (Auto Bingo, Bos Bingo and Slootjes Bingo) are also behind it.
Nice folder to take with you in the car or when your child wants to play quietly.