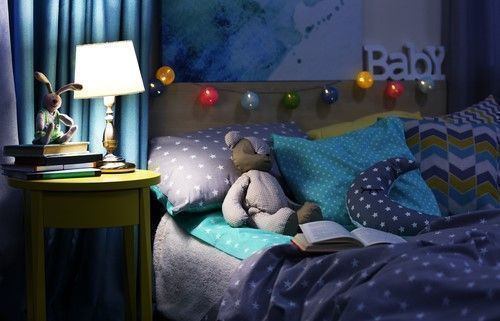 5 tips for the perfect nursery lighting
5 tips for the perfect lighting in the nursery
Are you looking for beautiful lighting in the nursery?? Then you soon discover that there is a lot of choice. You can choose from dozens of light sources, from an old-fashioned light bulb to a modern LED lamp. In addition, you can choose from hundreds or even thousands of different fixtures for the nursery. What is the perfect lighting? Find your lighting!
1. Choose your light source
How the lamp looks in the children's room is really only important from an aesthetic point of view. But from a practical point of view, start by choosing the light source. Nowadays it is actually a standard choice to go for LED lighting. This is cheap, economical and efficient. Go for a light source that gives warm-white or even yellow light. A Too Chilly Shade Of White is not only Unsociable, but can also disrupt sleep patterns.
2. Go for dimmable light
You don't always need bright light in the nursery. It is therefore nice to have a lamp with a dimmer switch. You can adjust the light to what you need at that moment. For example, bright light is nice when getting dressed, while the light can be a lot less bright when putting your child to bed.
3. Choose a nice fixture
You have your light source and you have decided whether you want a dimmable bulb or not. Now it's time to start looking for a fixture. You can usually find a rather modest range of lamps for children in lamp stores. It is therefore advisable to browse the internet as well. If your child is older, he can help choose the perfect lamp for the nursery.
4. Multiple lamps
Most children's rooms have more than one lamp. Many children find a night light pleasant, for example. A Bedside Lamp Can also Come in Handy When Your Child Grows A Little Bigger. If your child is still small, it can be nice to have a special lamp above the dresser so that you have good light there when changing clothes. So there are all kinds of different lamps that you can combine in the children's room.
5. Age appropriate
Children's room lighting is often a bit overlooked. That cute baby lamp is still there when your child is almost a teenager. Recognizable? Check every year that the lighting in the nursery is still appropriate for your child's age. Going from toddler room to nursery? Then it's time to change fixtures anyway, because your child will have very different preferences.
Finding the perfect nursery lighting is quite a challenge. Still, there's plenty of choice, so you'll find lighting that you like. If your child is big enough, he can help choose a nice lamp. If you then also take into account the practical aspects, The Lighting in your child's room will be just fine.
♥ ♥ ♥ Full -time mama uses affiliate links. This Means That If You Click On One Of The Left, We May Get A Small Commission On It. It Costs You Nothing Extra, But It Does Give Us Something Extra. With thesis Processed We Can Maintain This Website. Also, Sometimes we get paid for an article or recoive a product in Exchange for a blog post. This Still Leaves Our Opinion Unchanged and Honest. For More Information, You Can Read Through The Disclaimer. ♥ ♥ ♥