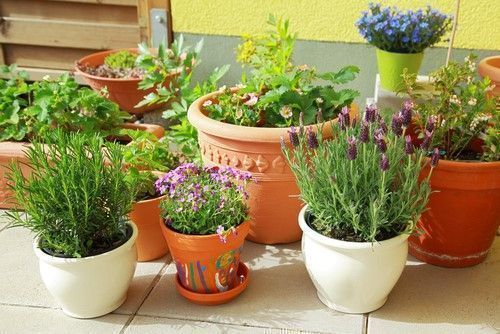 5 tips for combining flower pots in the garden
5 tips to combine flower pots in the garden
In winter, flower pots with plants are ideal. The plants you put in flower pots can often be easily replaced. Moreover, this way the flowers do not get too much moisture, so they also stay good longer than in the open ground. A single flower pot, however, looks a bit pathetic in the garden. Therefore it is nice to combine different flower pots with each other. This way you create a beautiful and striking ensemble that really come in its own in the garden.
Hint 1. Create a set with height difference
First, you can create a nice whole by placing the flower pots at different heights. You can use a special flower pot rack or just some tables or stools. You can also make your own rack out of wood. Then you place the flower pots on different levels to create a beautiful whole. Usually you put big plants from the back and bottom and put smaller plants in front of them. The Elho planters are a good example of this.
Hint 2. Flowerpots of different sizes
Combine just a few flower pots with each other? Then it can be nice to choose flower pots of different sizes. For example, put a large plant or a small tree in a large pot and put smaller plants in smaller pots around it. By playing with different sizes you can quickly create an interesting whole, which makes it extra striking.
Hint 3. Combining Hanging Flower Pots
Many people hang flower pots on the wall, fence or balcony. Yet such a solitary planter does not really come into its own. Try combining several hanging planters. Hang several on top of each other to create a vertical garden. Or hang several planters at different heights for a playful effect. You can also make your own combinations, like this beautiful DIY plant holder.
Hint 4. Play with colours
There are flower pots in just about every color imaginable. Look for colors that really appeal to you. Combine flower pots of different colors with each other for an extra lively look. Also consider the colors of the plants you place in them. If you go for cheerful bloomers, you can keep the colors of your pots a little quieter. Do you prefer easy plants that mainly stay green? Then brightly colored pots are an ideal way to create a special plant corner.
Hint 5. A Large Flower Pot As An Eye-Catcher
Sometimes it is not necessary to combine several flower pots. You can also go for one very large flower pot or planter. Then Choose One That Really Stands Out As An Eye-Catcher. For Example, Go For A Large Pot by Your Patio Or Next To The Front Door. Winter is the iDeal Time to Plant a Little Shrub or Tree, which you can then decorate with Christmas lights. Plant some Bulbs around them so that you can Enjoy Extra Floral Splendor in Early Spring.
Flower Pots Are Specally in Winter A Wonderful Way to Add Color And Atmosphere To Your Garden. A Big Advantage is that you hardly need to do any maintenance on it. You do not have to how Against Weeds, While Still Enjoying Beautiful Plants. What Combination of Flower Pots Do You Put in Your Garden?